PowerWare
« Tools for Power Users »
---
About The Bat!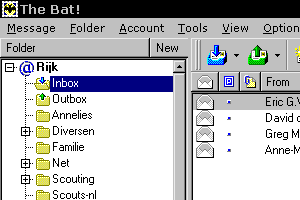 "The Bat! is an Internet e-mail program, which provides an efficient way of processing large message flows; has an easy-to-use user interface; allows users to work easily with several mail accounts with the possibility of exchanging messages between them; reduces delays while working. The Bat! extensively uses Window's multitasking capabilities. This means that the user can send and receive e-mail while reading or writing other mail."
"The Bat! also allows the user to process mail right on the mail server - without actually downloading messages to the local hard drive. Encrypted log-in to POP3 servers and IMAP4 protocol is supported, and The Bat! has a comfortable editor with many useful functions, Address Book and provides extensive set of tools for processing mail."

Pro's
With The Bat!, you can use multiple accounts that can be changed on the fly. Even each folder where you save your messages can have it's own identity (To, From, Reply-to). There are macro enhanced templates that are very powerful; you can automatically customize your new, reply and forward messages based on account, folder or even address-book entries.
The Bat!s filtering system can pass data to external programs, auto-responders, macro enhanced templates for auto-responders, kill filters etc.. Filters and Macros are so powerful that they allow you to turn the e-mail client into a mailing list server.
The Bat! can import your messages from Microsoft Outlook Express, Netscape Communicator, Netscape Mail, Eudora Lite/Pro and Pegasus Mail, and can import address books from any client that can export to an .INI, Comma Separated File or a Tab Separated File.
The Bat! also has ...

a Word-like spellchecker;
a Mail Ticker that shows you the header info from new messages - From, To, Subject etc.;
a PGP implementation (I haven't used this myself);
an address book function that let's you choose e-mail addresses from a fold out tree (like the Windows Start button);
an option to manage your mail directly on the POP3 server;
full 32 bit multi-threading - you can check mail on all of your accounts, and write/read messages at the same time;
dial-up networking support, automatic mail retrieval with auto log-off, mail notification, message actions, live URLs, nested folders, smart drag & drop, and more!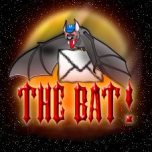 Con's
The Bat! displays HTML messages with it's own HTML engine. You can't adjust the HTML display, but you can choose not to see the plain text. You can't author HTML mail. I don't mind, I hate HTML mail anyway.
The menu structure is unusual. The buttons for the basic functions are easy enough, but it takes some time to find (and get get used to) all the exciting options.
Useful links